Bloomberg CityLab
October 25, 2022
One Chinatown museum has opened as part of Canada's redress for past discrimination, while another nearby fosters "hope for the future."
At the new Chinese Canadian Museum in the heart of Vancouver's Chinatown, an exhibit struck a chord with Peter Wong, 72, during a recent visit — his first since the museum opened in March 2020. He interjected as a museum guide discussed Canada's Chinese Head Tax, the discriminatory 1885 law that discouraged Chinese immigration after thousands of laborers finished backbreaking work building the Canadian Pacific Railway. About two-thirds of those workers were from China.
Wong recounted that he has no early photos of himself with his father, who emigrated from China to British Columbia. When Wong was a child, his father burned their family photographs. He was worried they might be used as evidence to deport the family during a period when Canada tightened immigration policies.

Wong, a retired IT professional who lives in Vancouver, was unexpectedly moved by his visit to the museum. "The thing that attracted me was the stories. I can relate to them," he said. "At some point, I became emotional."
The Chinese Canadian Museum is possibly the first major ethnic museum majority-funded by British Columbia's government. Where once families like Wong's burned heirlooms, the museum now showcases Chinese Canadian heritage and history in photos, artifacts, audio and videos.
There are whimsical images of bustling 1960s-era Chinatown diners and colorful paraphernalia such as a dragon head dating from the 1930s used for festival dances. Exhibits also mention darker chapters in Canadian history over the years, beginning in 1788, when Chinese people first arrived as carpenters at what is today Vancouver Island.
The small but insightful exhibition is housed at a temporary space in Vancouver's Chinatown ahead of the museum's C$27.5 million ($20 million) expansion to a historic building next door. The upcoming opening, slated for 2023, will coincide with the 100th anniversary of the Chinese Immigration Act (also known as the Chinese Exclusion Act), which barred Chinese immigration from 1923 to 1947 after the Chinese Head Tax was lifted.
Vancouver's Chinese Canadian Museum is the first of its kind. Photographer: Amy Yee
That back story isn't mentioned at the museum, which has a celebratory and inclusive tone, even if some of its insights are sobering. Nor are distressing milestones such as the 1907 race riots organized by the Asiatic Exclusion League that tore through Vancouver's Chinatown, or the fact that Chinese people could not become Canadian citizens until 1943.
Plans for the Chinese Canadian Museum were laid following apologies from Canada's federal and provincial governments for discriminatory policies in the past. Since 2019, British Columbia has pledged a total of about C$38.5 million ($28 million)to establish and run the center. The museum aims to "learn from history but build a better society," said Grace Wong, chair of CCM's board.
Its sleek multimedia exhibition covers broad themes of food, culture, commerce and activism. In one audio interview, third-generation advocate Shirley Chan recalls childhood memories from the 1970s. Her parents and other Chinese Canadians saved Chinatown by protesting and stopping plans to build a freeway through Strathcona, an adjacent neighborhood.
A special exhibition documents the history of the H.Y. Louie Family, whose humble grocery and farm-supply business, started in 1903, grew to become a leading Canadian retail chain. In the museum, one wall is covered with a map of the world where visitors can pin threads showing their own journeys to Canada.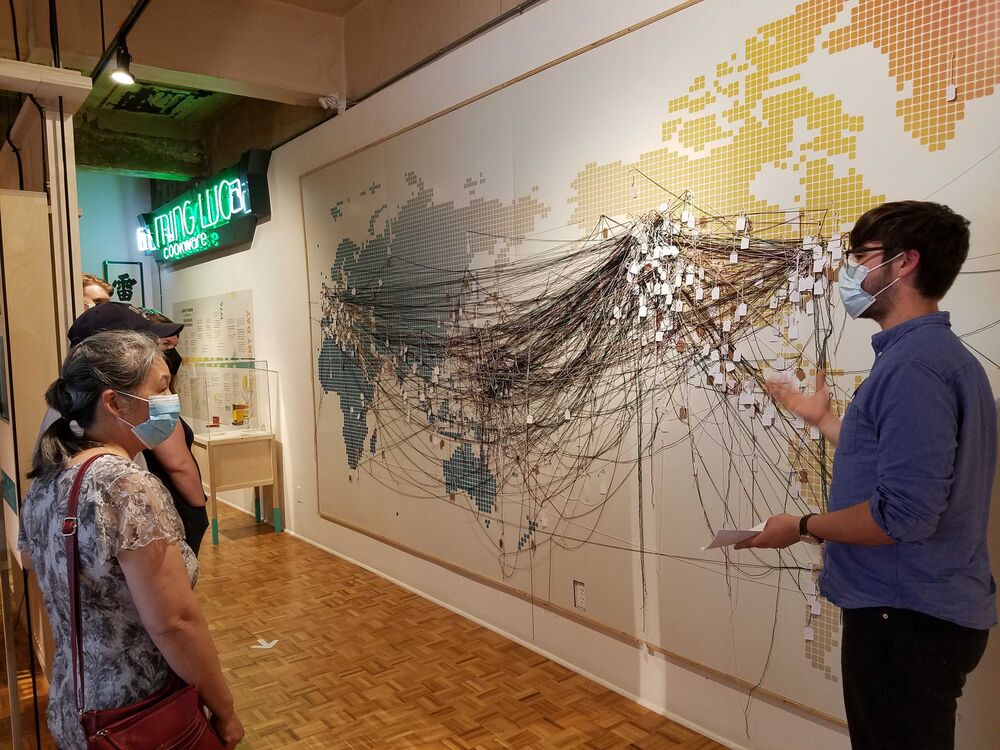 During the Covid-19 pandemic, a second cultural institution opened down the road on Pender Street. Chinatown Storytelling Centre, launched by the nonprofit Vancouver Chinatown Foundation, opened in November 2021 and also features historic photos and multimedia. It emphasizes personal stories told via audiovisual kiosks in English, Mandarin and Cantonese. Visitors enter through an entryway resembling a ship's hold, like ones that brought the first Chinese immigrants to Canada centuries ago.
Carol Lee, chair of the Vancouver Chinatown Foundation, explained that the organizers deliberated about its name. They settled on Chinatown Storytelling Centre because it strives to be accessible to all, especially since the first Chinese immigrants to Canada in the 1780s and 1800s were likely illiterate or semi-literate. Any visitor to the center should have a "good experience even without being able to read," explained Lee. "We wanted to create something welcoming, accessible and that reflected their stories."
One display features Chinatown butchers who in the 1970s protested and overturned restrictive government policies about barbecued meat. "They went all the way to Ottawa. Those kinds of heroes paved the way," said Lee. "You need to have pride in your past to have hope for the future."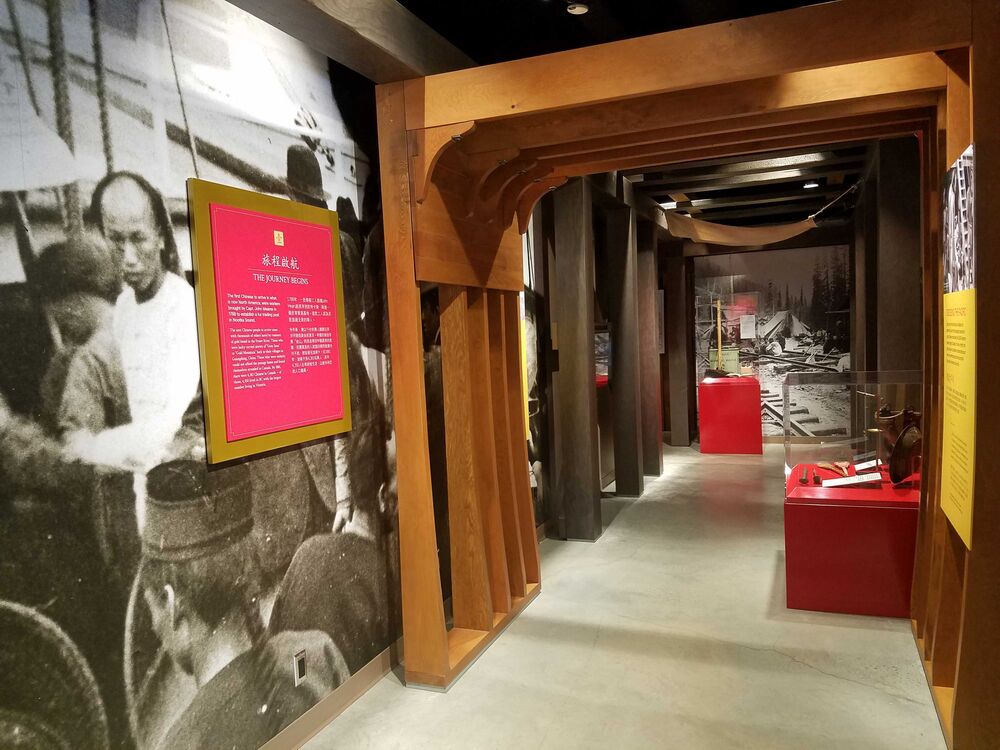 Surging Anti-Asian Racism
Both museums were planned for years and launched in spite of the deadly Covid-19 pandemic. Their openings coincided with spikes in anti-Asian racism in the US and Canada — even in multicultural Vancouver, where more than 40% of the population is of Asian descent. Bloomberg reported that in 2020, Vancouver was the "anti-Asian hate crime capital of North America." And an April 2021 survey found that 43% of British Columbia residents of Asian descent experienced a racist incident in the past year.
Places that educate people about the history and contributions of Chinese Canadians are "now more important than ever," said Lee of the Chinatown Storytelling Centre.
Wong said the Chinese Canadian Museum acknowledges a "full history — difficult times, resiliency and contributions." She added, "There's so much misunderstanding and stereotyping."
Both museums aim to connect broadly with people from all walks of life, since Canada is largely a country of immigrants. Lee recalled a visitor of Russian descent who said the stories of Chinatown Storytelling Centre reminded him of his own history and the sacrifices of his father. That feeling of cross-cultural connection validated the Center's mission, said Lee.
Reviving Vancouver Chinatown
The new museums have another important role: boosting the city's flagging Chinatown. Vancouver Chinatown was a vibrant commercial and cultural hub until the 1980s, as seen in archival photos in both museums. But the neighborhood has been on the decline for many reasons. In recent years, more Asian Canadians and immigrants have flocked to burgeoning Vancouver suburbs such as Richmond. Chinatown also sits next to Downtown Eastside, the city's longtime skid row, which is notorious for addiction and crime. There, encampments and open drug use are a stark contrast to the prosperity that idyllic Vancouver is known for.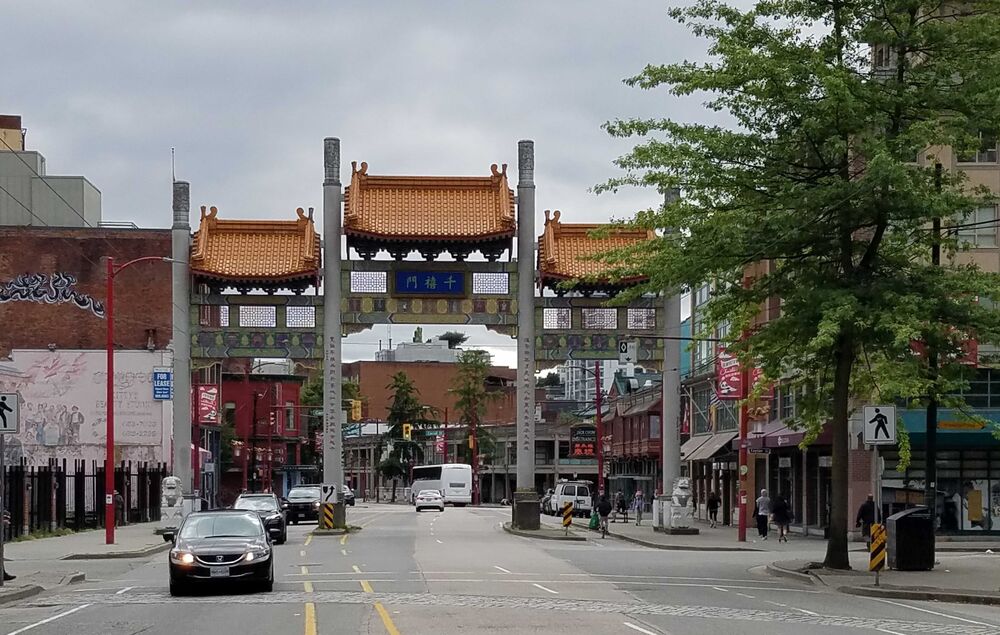 During the pandemic, homelessness and drug use increased in the Downtown Eastside and more dereliction spilled over to Chinatown. Shops there have been hard hit by loss of business, as well as continual vandalism and graffiti. On a recent visit to Chinatown, a historic mural of early Chinese settlers was defaced, and the Chinese Cultural Center's glass windows were cracked and battered. Tour guides warn visitors away from visiting areas near the Downtown Eastside after dark. Meanwhile, dozens of small businesses have shuttered over the past two years, including Ming Wo, a cookware store that opened in 1917 and closed in 2020.
https://c6e353cdbbd7ff6905fbff0d8bdba92d.safeframe.googlesyndication.com/safeframe/1-0-40/html/container.html
Even before the pandemic's blow, the founders of Chinatown Storytelling Center were on a mission to revive the neighborhood. In 2011, Vancouver Chinatown Foundation was established to revitalize the community economically, culturally and physically, in part through social housing.
The enclave originated as a ghetto for Chinese railroad workers from 1885 after they finished building the Canadian Pacific Railway. Although their work helped transform Canada, employers' promises of return fares to China vanished when their work was done. The Chinese Head Tax imposed from 1885 made Chinese immigration, especially of wives and children, prohibitively expensive. Many workers were never reunited with their families. The railroad workers "had nowhere to go. They were forced to live in Chinatown on the edge of a swamp," said Lee. "Their impact was profound. But no one really knew their story."
Vancouver Chinatown embodies the "physical legacy of all that sacrifice, hardship and contributions they made to the building of Canada," she explained. Despite being pushed to the margins, the neighborhood was home to generations of Chinese Canadians who became part of the country's fabric. Chinatown became an "invaluable cultural asset for people who contributed so much to Canada as a multicultural nation," said Lee.
Civic and community leaders hope the new museums will draw visitors back to Chinatown, which features historic buildings and architecture, restaurants and the Sun Yat-Sen Classical Chinese Garden, the first Chinese garden built outside of China. Vancouver and British Columbia are both backing Vancouver Chinatown's bid to be designated a Unesco World Heritage site.
But Chinatown faces many challenges entwined with complex social issues that need support from government and other sources. Even Lee's father said revitalizing Chinatown was an "impossible task," she noted.
Reckoning With the Past
The existence of the Chinese Canadian Museum is part of redress by the Canadian government as it continues to reckon with racism. In 2006, then-prime minister Stephen Harper issued a formal apology to Chinese Canadians and their­­ descendants who were subjected to the Chinese Head Tax, which he acknowledged as discriminatory. In 2014, British Columbia made a formal apology, followed by the city of Vancouver. In 2017, Canada mandated establishing the country's first Chinese Canadian museum.
Systemic discrimination was supported by government policies. No other ethnic group was subjected to the Chinese Head Tax's formally sanctioned discrimination over such an extended period from 1885 to 1923, according to British Columbia's government.
Even after the head tax was lifted, the Chinese Exclusion Act went into effect from 1923 to 1947. During that era, Vancouver's policies also supported segregation of Chinese Canadians in schools and public spaces like swimming pools, housing and hospitals. Local cemeteries also had restrictions, and people had to be returned to China for burial.
Vancouver prohibited Chinese from receiving city contracts and prevented city contractors from hiring them, according to the Vancouver Heritage Foundation. It was not until 1952 that the first Chinese employee was hired by Vancouver.
A Permanent Home
Next year, a century after the passage of the Chinese Exclusion Act, the Chinese Canadian Museum will move to its permanent home in the historic Wing Sang Building, the oldest in Chinatown. The Wing Sang Building itself, built in 1899, reflects the racist policies of the past, noted British Columbia's government: To obey a curfew imposed on Chinatown, the building was constructed with narrow passageways that residents used in secret after dark.
Times have changed. Now instead of invaluable photos being burned to ashes, they are preserved for posterity. Since it opened in 2020, about 13,000 people have visited the temporary Chinese Canadian Museum in Vancouver Chinatown. Nearly 13,000 have also come to the Chinatown Storytelling Centre. What's more, the city marked a milestone this month: Ken Sim was elected as mayor of Vancouver to become the first Asian Canadian mayor in the city's history.
It's a promising start, especially during a global pandemic. But much more is needed to address anti-Asian racism and halt Chinatown's decline. The community's future remains uncertain.
In addition to opening the Chinatown Storytelling Center, the Vancouver Chinatown Foundation helped launch a $110 million New Eastside social housing project with 230 units. The complex challenges facing Chinatown extend beyond its borders. Lee points out: "Without helping our neighbor, it would be hard to revitalize Chinatown."
https://www.bloomberg.com/news/articles/2022-10-25/vancouver-pays-tribute-to-chinese-canadian-history-amid-spike-in-anti-asian-racism