Illinois is considering $2,500 grants for small businesses that hire formerly incarcerated people and lowering licensing barriers for barbers, truckers and other trades.
September 12, 2022
At Juan Rivera's Legacy Barber College in Chicago, clippers buzz as students give fades to their customers. In adjacent classrooms decorated with anatomy posters, other trainees gather at tables crowded with mannequin heads and tools of the trade. One man, Anthony, sweeps hair from the floor after giving a female patron a trim.

Juan, the teacher, and Anthony, the student, are united by more than the bustle of the shop in the Rogers Park neighborhood. Not so many years ago, they were playing basketball and lifting weights together — in prison. Anthony, 44, was released in May after spending 27 years behind bars.

GO TO ARTICLE
Their paths are crossing again now as free men in part because of economic forces in Illinois that are echoed nationwide: Businesses need people trained to fill jobs, and people who have been incarcerated need work.
There are about 5 million people who have served time in a state or federal prison in the US, and joblessness among those who have been incarcerated stood at 27% in 2018, nearly five times the overall national rate, according to the Prison Policy Initiative. A much larger pool of potential workers — some 70 million to 100 million people, or as many as one in three — has some type of criminal record, and employment has been shown to reduce recidivism.
The state's lawmakers are pursuing at least two innovative ways to help businesses find more workers — including some who may have served prison time.
Rivera opened Legacy in 2016 simply to help people become barbers, guiding students through the state's required 1,500 hours of training. Over time, and largely through word of mouth, the school became an important springboard for the 40% of its students who have criminal records. Rivera's mission expanded again this year as as he and other small-business owners testified before state lawmakers about reducing requirements for occupational licenses such as barbering, cosmetology and truck driving.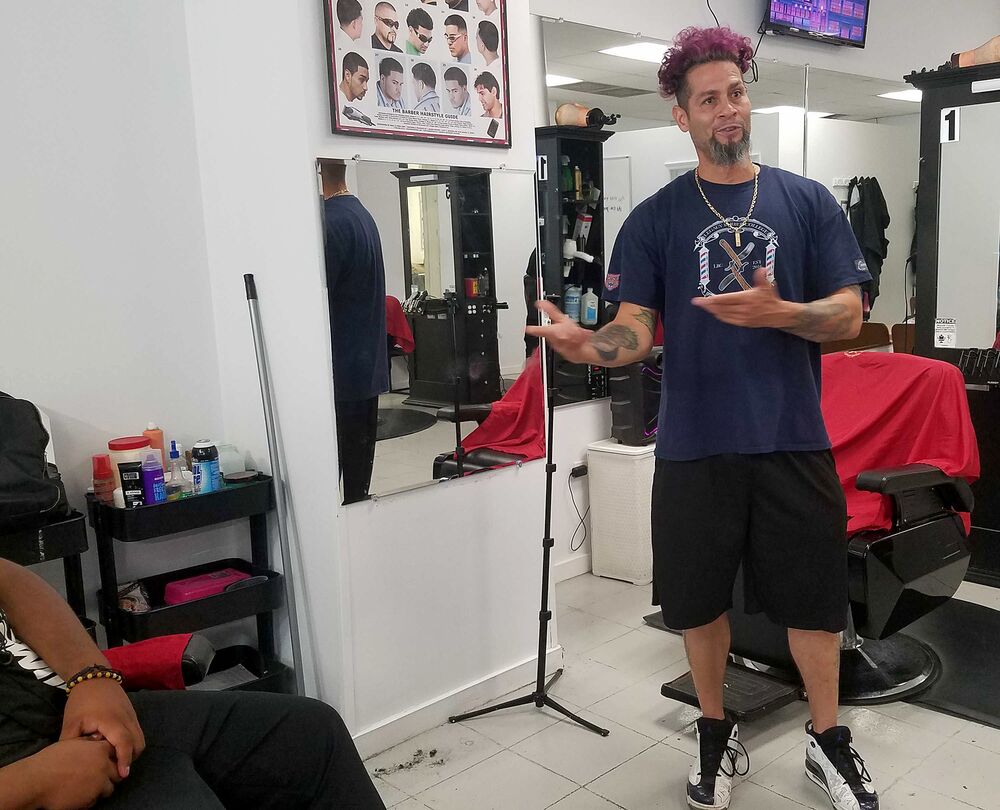 Eliminating barriers such as requiring high school diplomas or GEDs would make it "a little easier for someone trying to do something better in life," Rivera said in an interview. Otherwise, for many people, that criteria "closes the door completely."
Hurdles are even higher for people who have been released from prison, who often lack resources and training. At Legacy, Anthony is doing a 300-hour refresher course to build on his 1,200 hours of barber training in prison. Rivera's is one of the only barber schools in Illinois that accepts transfer credits from prison. Otherwise, Anthony would have had to start from scratch. (He's only using his first name because his record might affect future job prospects.)
"Anthony is a prime example of someone who never gives up," said Rivera, 49, who served 20 years in prison and was released when his wrongful conviction was overturned in 2011. When their time in incarceration overlapped, "we studied together, prayed together."
Two Initiatives
The testimony from Rivera and other business owners about licensing burdens was part of an effort led by the Small Business Advocacy Council and nonprofit Institute for Justice Clinic on Entrepreneurship, both based in Chicago. Subsequently, Illinois this summer signed an act to study — and potentially reduce — onerous criteria for occupational licenses.
Separately, the state's legislators also are considering another bill that would give small business owners $2,500 grants — and a possible wage subsidy — for training people who have been incarcerated and hiring them for at least 60 days.
The efforts all come as the US struggles with a severe labor shortage that particularly hurts small business owners. A May report from the National Federation of Independent Business found that across the country, 51% of small business owners couldn't fill job openings — a 48-year-high. "Hiring has never been harder," said Bill Dunkelberg, the federation's chief economist.
Elliot Richardson, president of the Small Business Advocacy Council, noted that these days it's common for small businesses to cut back on opening hours because they don't have enough workers, which hurts local communities. Finding meaningful work for people who have been convicted of crimes could also help address the "serious issue of public safety — it's really impacting Chicago," Richardson said.

The move to consider $2,500 employer grants could help about 20,000 formerly incarcerated people, said State Representative Carol Ammons, co-sponsor of the bill, which the SBAC and Chicago nonprofit Workers Center for Racial Justice helped draft. Discussions could move forward this fall when the Illinois legislature reconvenes. "More than half of all job seekers returning from incarceration cannot obtain stable employment, and those who do secure work earn significantly lower wages," Ammons said.
The proposed grants could help shift some business owners' mindset about hiring people who have served prison time, said Tom Decker, owner of Chicago Green Insulation, based in the northern Chicago suburb of Highland Park. "It's significant enough for those who may not have otherwise been able to take that risk," said Decker. Since 2002, he has hired more than 100 people with criminal records for his business. "Their problems are no different than any other person I've hired," he said.
Even so, he emphasized the importance of training programs so that those emerging from incarceration are ready to work; small businesses often don't have time and resources to do so.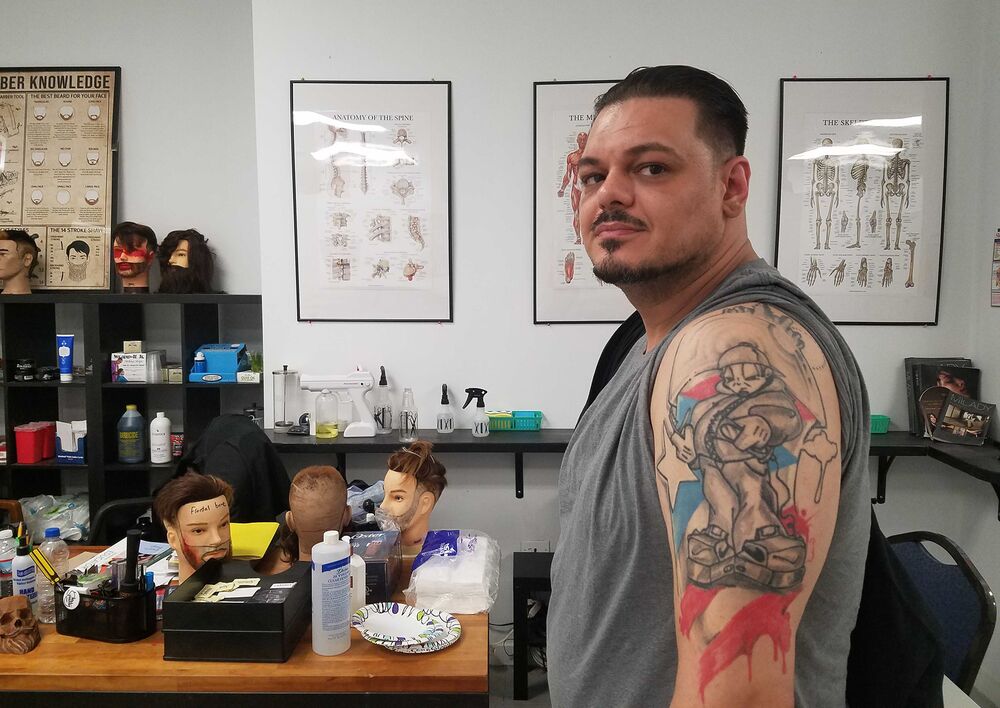 Juan Rivera's school offers support and mentoring that can be "life-changing for some people — it's more than just cutting hair," said Jimmy Barrett, 40, who is a practicing barber now taking a Legacy course to become a barber teacher. Training young people can help them "pick up the clips and put down the guns," he said.
Training Programs
Legacy is just one of many Chicago-area organizations that offer work training, including the Howard Area Community Center, Phalanx Family Services and the Washington Heights Workforce Center. Cyndi Stewart founded Sustainable Options for Urban Living (SOUL) in 2015 and trains people from ages 18 to beyond 60 — mostly from Chicago's South Side — in solar energy, electrical, carpentry, construction and other skills needed for modern workplaces.
"Now you're teaching someone to sling a hammer, but you also have to talk about 3D printing," Stewart said. She suggested that the proposed $2,500 hiring incentive to go beyond formal payroll employees to also include contract workers for industries like construction.
People need more support to get back on their feet since they often don't have ID, money and stable housing when they are released, Stewart said. If they can't find a job, after a while they stop trying and easily return to old ways. "It can be daunting to them,'' Stewart said. "That's why recidivism is so high.''
The facts back her up. In the US, 68% of released prisoners were arrested again within three years, the Bureau of Justice Statistics estimates. But getting a job within two months of release from prison means a better chance of avoiding costly recidivism, found a study by the Urban Institute. In Illinois, reincarceration would cost more than $13 billion over five years, a 2018 estimate said.
Prison to Entrepreneur
Some business owners know first-hand how hard it is to find a job when you have been incarcerated — that's why they started their own companies. James Webb, 44, owner of Nation Builders Construction Group in Chicago, earned a bachelor's degree in finance after release from prison in his 20s. Even with his degree, employers walked him off work sites when they found out about his record. With limited options, Webb moved to Virginia to work at a friend's construction company. He returned to Chicago and started Nation Builders in 2009.
Webb estimated he has hired as many as 80 people with criminal records over the years, and he also helped many of them set up their own businesses. "I remember what it felt like to not make money, bouncing from place to place," he recalled.
Anthony, the budding barber, said he's grateful he found quick support after his release from prison. Within weeks, he had enrolled at Rivera's barber college on a scholarship from Rogers Park Community Center that covers his $7,300 tuition — well below the nearly $20,000 that many schools charge.
Legacy "is assisting me in a way that no one else would," Anthony said. "It's a real blessing."

https://www.bloomberg.com/news/articles/2022-09-12/chicago-looks-to-boost-hiring-for-people-released-from-prison