Native American communities are receiving $20 billion in federal pandemic relief. The Suquamish Tribe is putting its share toward affordable housing.
Bloomberg CityLab
November 29, 2022
The town of Suquamish, which makes up about half of Port Madison Indian Reservation, looks like another pleasant Seattle suburb, replete with lush greenery and compact houses. The grave of Chief Seattle, a leader of the Suquamish Tribe, is a short walk to the shores of Puget Sound.
Leonard Forsman, chairman of the Suquamish Tribal Council, stands on sacred land reclaimed by the tribe near where Chief Seattle's long house was burned down by the US government. The city of Seattle is visible across Puget Sound from this Native American reservation. Photographer: Amy Yee/Bloomberg
It was a sleepy place when Leonard Forsman, the 62-year-old chairman of the Suquamish Tribal Council, grew up on the reservation in the 1960s and 1970s. People fished and logged, but there wasn't much steady work. "We had a country life," he recalls. "There weren't opportunities here, so people left."
Things are different now: In 1995, the Suquamish tribal government opened a casino that was later expanded into a gleaming resort, ushering in an era of economic growth. Over the past two decades, the community has experienced a "complete renaissance," said Scott Crowell, director of community development in the tribal government and a Suquamish member. These days, practically any tribal member who wants a job can get one, he said.
The Suquamish community is enjoying growth hardly imaginable a generation ago. But now the tribe faces another problem: lack of affordable housing. "Rents are too high and it's too expensive to buy," said Crowell. "The darned thing is, we've been priced off our own land."
So Suquamish is allocating about $15 million from federal Covid-19 relief funding from the American Rescue Plan to expand affordable housing. "As bad as Covid has been, it's given us an opportunity we didn't have before," said Crowell, who oversees the tribe's housing programs. "Housing is survival," he emphasized. "There are 1,200 of us on the planet. Affordable housing moves our people onto the reservation so we don't lose them. It maintains our culture."
For tribal members, living on the reservation "restores our tribal nation so people have that collective feeling of cultural practice," said Forsman. "It builds relationships that were intentionally broken apart."
ARP Funds Affordable Housing
In 2021, the US government allocated more than $20 billion directly to some 574 tribal nations across the country as part as of the ARP — a packagethat represents "the largest infusion of federal funding for Indian Country in the history of the United States," according to researchers at the Harvard Project on American Indian Economic Development. ARP funds offer a "once-in-a-lifetime" chance to transform Native communities, said Joe Kalt, director of the project. Hundreds of US tribes are at varying stages of planning or rolling out their projects, which range from building roads and broadband internet to expanding health care and job training. Some, such as the Choctaw Nation in Oklahoma, have opted for direct payments to tribal members.
The Suquamash Tribe is devoting most of some $21 million it received from ARP to affordable housing. The reservation sits about 18 miles away from one of the most expensive real estate markets in the US. In Seattle — home to Amazon.com Inc. and Starbucks Corp. — the average home price was $944,260 as of this August. (That's a 9.4% increase over a year ago.) The rise of remote work further drove up prices in the suburbs: In Kitsap County, where Suquamish is located, the median price of a single-family home was $550,000, according to the Seattle Times this September. The once-sleepy reservation is gentrifying in a hot real estate market.
Adding complexity, the Port Madison Reservation is vulnerable because it is a "checkerboard" mix of tribal and non-tribal property, with Native Americans living alongside non-Suquamish people on its 7,657 acres, due in part to some darker chapters of history. In fact, some non-Native residents, even longtime ones, are unaware Suquamish is a reservation. At its low point, the Suquamish tribal government and families owned only one-third of Port Madison's land — a share that's since risen to about 57%. But now a starter home can cost $400,000 to $500,000, estimated Forsman.
"Tribal members can't afford to buy on our reservation. It's outrageous," said James Abler, a Suquamish member. Abler, 35, lives in a subsidized tribal house on the reservation with his husband and two teenage foster children. Rents in Suquamish are also increasingly prohibitive: Back in 2013, Abler paid about $950 per month for his non-tribal market-rate two-bedroom apartment; now he estimates that rent is $1,400. "You have to go out an hour out to find affordable housing," said Abler.
Out of some 1,200 Suquamish members worldwide, 400 to 500 live on the reservation itself and 300 to 400 live within driving distance. They're just a fraction of the reservation's population of nearly 8,000.
Housing prices on the Suquamish Tribe's reservation have jumped in tandem with soaring property prices in nearby Seattle, one of the hottest US real estate markets. Photographer: Amy Yee/Bloomberg
Getting People (Back) in Homes
In recent decades, the Suquamish tribal government has offered various types of housing assistance, including mortgage subsidies, subsidized rental houses, rent-to-own homes, repair and maintenance programs, small studio homes and more. There are about 140 homes for tribal members and many Suquamish members on wait lists. The tribe expects ARP funding will help accelerate and expand its affordable housing projects.
ARP-funded housing projects include a new development with a dozen lots where tribal families can construct their own homes. The tribe will clear the parcel of forest and build water, power and sewer facilities. Crowell estimates that those homes will cost around $200,000.
In addition, a 20-unit complex of townhouses is being planned on prime waterfront land. Suquamish Shores, as the 36-acre parcel is called, was leased to non-tribal people for 50 years when times were tough for Suquamish and they needed income. "That was a real hard pill for the people to swallow because of the fact that it was such an important part of the tribe's celebration grounds," Forsman told the Kitsap Daily News. The tribal government re-acquired Suquamish Shores in 2018.
Construction on Suquamish Shores was slated to begin in 2023, but plans have been delayed due to high inflation and labor shortages. "Everything is taking more time. The more time things take, the more money," said Crowell. "Costs are going crazy. That money isn't as much as you think it is."
Affordable Housing Is Limited, Coveted
A short walk from Suquamish government offices sits a cluster of six small cottages beneath tall evergreens. Construction finished last fall after planning for these studio homes began in 2017.
Denita Holmes, a 33-year-old teacher at the tribe's school, said her sister moved into one when even her tribal rental apartment became too expensive. Her sister downsized from a subsidized two-bedroom apartment for $1,300 that she shared. Now she rents one of the new studio homes for approximately $350 each month.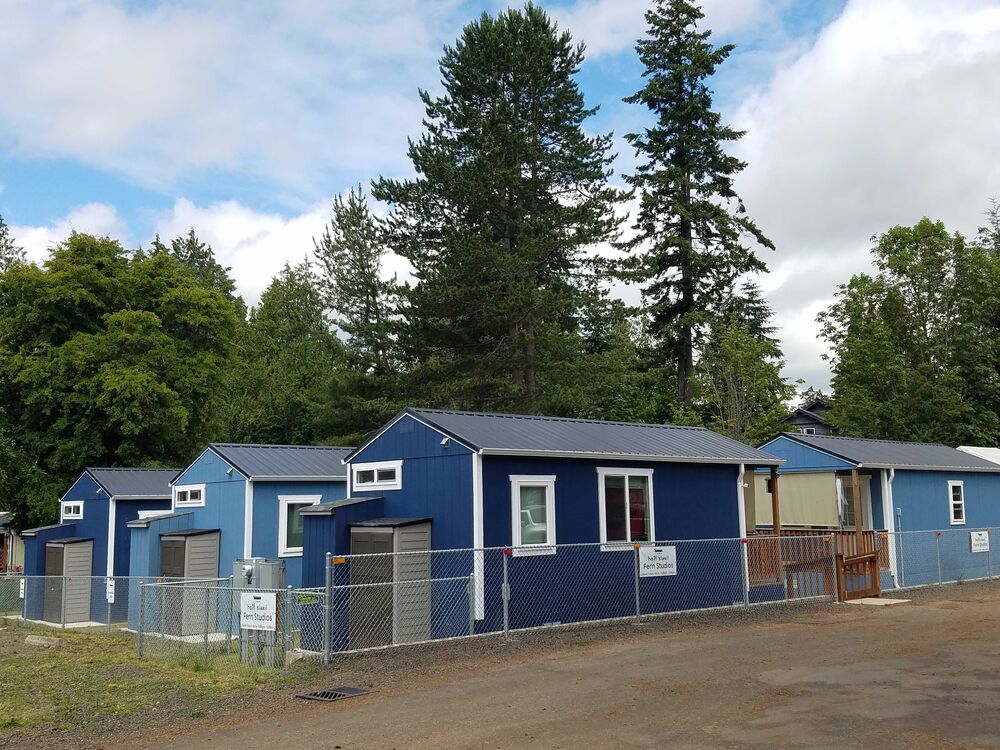 Holmes also lives in tribal housing with her husband and son. In 2010, they moved into a three-bedroom home with no deposit and a 25-year mortgage. The house cost $66,000. Holmes estimates it would cost hundreds of thousands of dollars at market rates today.
Last year, Suquamish government also constructed six "tiny houses," primarily for homeless tribal members. "It's another attempt to get people into homes," explained Crowell. They cost about $5,000 each to build and rent is $70 per month. The tiny houses sit in a public park area, which has campground bathroom facilities a short walk away.
While Suquamish seems like a picturesque suburb to casual visitors, there are less visible problems among tribal members who face addiction, mental health issues and historical trauma. Deep-seated challenges make the need for affordable housing more acute, but there is a long wait list that can last years.
Since 2009, Misty Sigo, a 41-year-old single mother, has lived in a home subsidized by the tribal government. Sigo noted that her sister was on a waitlist for affordable housing for eight years when she died at age 28.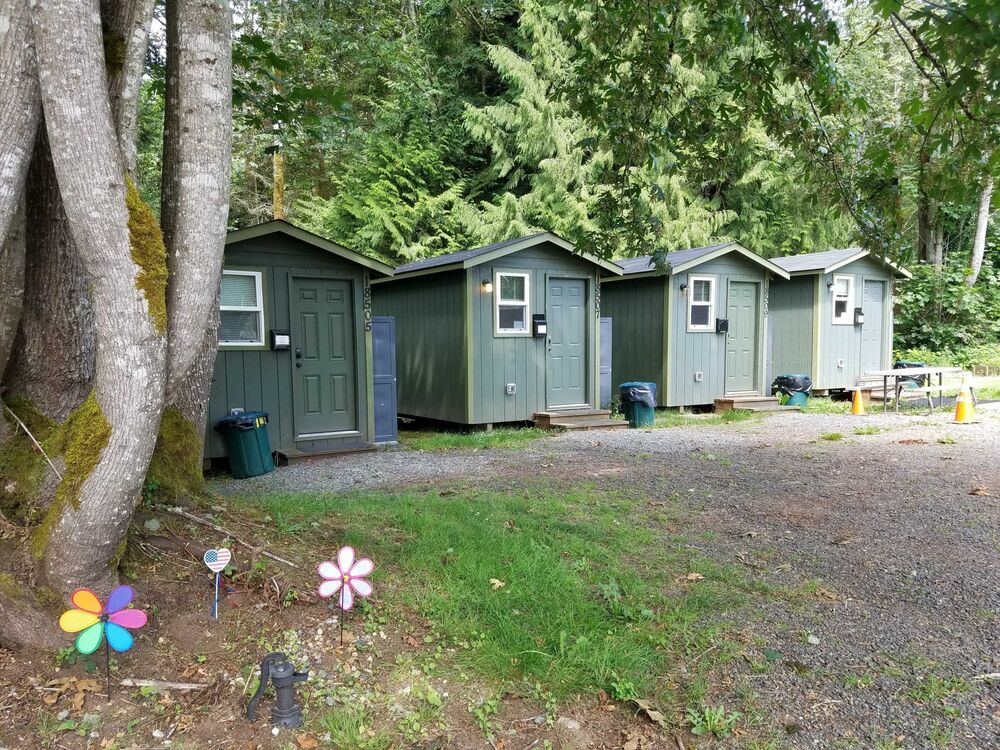 The Meaning of 'Home'
For the Suquamish, home on the reservation is more than just four walls and a roof. After the 1855 federal treaty that created the Port Madison reservation, pieces of tribal land gradually fell into the hands of non-Natives.
That was often due to exploitative US policies or Suquamish selling off their property, sometimes unwittingly or unwillingly. For example, US officials sold the land of Native people without consent after deeming them "non-competent" because they could not read and write in English. In another instance, in 1904 the US military took over a swath of prime waterfront land sacred to the Suquamish. It eventually sold the parcel to private developers.
Today, economic growth is fueling Suquamish's reclamation of tribal lands and also its cultural revival. In 2009, Suquamish built a new long house to host community events. The spacious hall with sparkling views of Puget Sound has symbolic resonance: In 1870 the US government burned down "Old Man House," the tribe's original long house, where Chief Seattle lived with the Suquamish community.
From 1900 to 1920, traditional ways were further eroded when Suquamish children were sent to Indian boarding schools for assimilation. In 2014, nearly a century later, Suquamish opened Chief Kitsap Academy, a tribal school for grades six through 12. Its curriculum includes teaching native Lushootseed language of the tribe for both Native and non-Native students. And the history and culture of the Suquamish Tribe is showcased in a sleek museum that opened in 2012.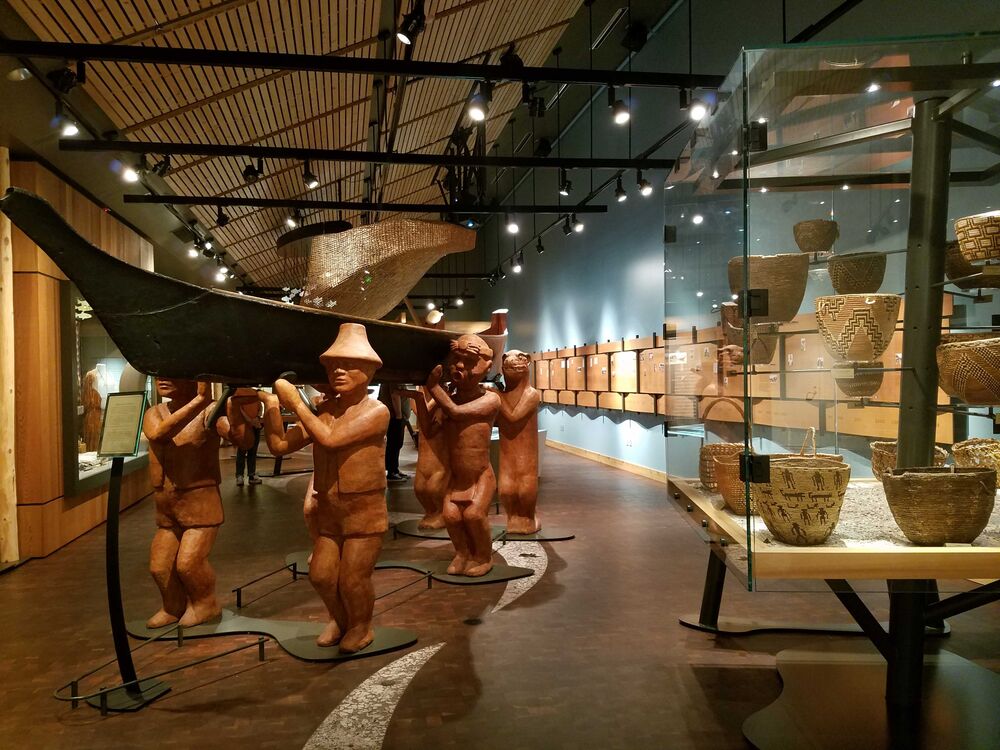 In the 1980s, when Crowell was growing up on the reservation, only a few Suquamish children went on to college. Now at Chief Kitsap Academy about 70% of graduates go to college; most are first-generation college students. The tribe also covers college tuition for Suquamish students who maintain certain grades.
And cultural revival is on full display in the annual summer canoe trip of regional Native tribes. Since 1989, Suquamish and other Pacific Northwest tribal members have participated in a weeks-long canoe journey along the coast. The event has grown and now as many as 6,000 Native people make the trip in traditional cedar canoes.
The big coastal canoe voyage has been on hiatus during the Covid-19 pandemic, but a smaller version took place this summer. Abler joined those celebrations in Port Madison and witnessed Suquamish people returning home to the reservation after the journey. "It was really powerful to see," said Abler. "It gave me the chills."
Suquamish's prosperity stands in contrast to the national poverty rate of 25% among Native Americans — the highest among minority groups, according to the Census Bureau. As Janet Yellen, the US Treasury secretary, noted during her first official visit to Indian Country this summer, in some Native tribes, more than half of citizens live in poverty. For those living on reservations, the average unemployment rate is around 50%, she said. The US Treasury, which distributes ARP funding, is ramping up its engagement with tribal nations; and on the same day as Yellen's visit, President Joe Biden announced Lynn Malerba, chief of the Mohegan Tribe, would be the next US Treasurer.
Reservation as Refuge
In Port Madison, high prices for houses and apartments continue to squeeze budgets. Native Americans on the reservation have a median household income of $54,500, according to the Federal Reserve Bank of Minneapolis. So affordable housing can be life-changing for many Suquamish members.
Sigo remembers the day in 2009 when she moved into her new four-bedroom home in the town of Suquamish. "It was the most amazing feeling in the world. I had a place to lay my head and provide refuge for other people," she recalled. At the time, Sigo was pregnant with her sixth child.
Since then, she fostered and took in two nephews, faced domestic violence and got divorced, but her house was always a haven. "Through life, trial and error, divorce — I was able to maintain myself and my family through our own home," said Sigo. "If not for this tribal home, I would probably have been homeless a few times with my kids."
Sigo explained that it would have been difficult to take in relatives if she had lived in a non-tribal community. For Suquamish people, "there's a different mentality behind it. There's not too much stigma," she said. "You're not seen as less than because you need that help."
Sigo's mortgage is $200 to $800 a month, depending on her earnings, which makes her eligible for low-income tribal housing. Sigo worked as a fisherwoman for 12 years and as an administrator for the Suquamish tribal police department for seven. Her home is on tribal land, so she only owns the house itself. Without subsidies, Sigo says she would not have been able to afford the house. "That's why I've opened up my home to other people," said Sigo. "I know what it's like not to have anything and to be provided a home when you needed it."
In 2018, Abler moved into his new three-bedroom tribal home in Indianola, another town on the reservation. With his husband, Abler fostered his great niece and nephew and now has guardianship. The house is near the waterfront and many of his neighbors are relatives. "The kids love it," said Abler, who works at Suquamish's early childhood learning center. Abler qualified for low-income housing, so his monthly mortgage is under $700 — a third less than the market-rate two-bedroom apartment he rented in 2013.
Off the reservation, rents for apartments in neighboring towns are still high. And being further away from Port Madison makes it harder to participate in tribal events. For Abler and many Suquamish members, being with the community is soul sustaining. He remembered growing up on the reservation, playing in the woods and gathering with extended family.
"We are a communal people; we lived in long houses before," recalled Abler. "It's vital for tribal members to come back and be in community."
https://www.bloomberg.com/news/features/2022-11-29/seattle-area-tribe-tries-to-fight-reservation-gentrification