Amid a spike in carjackings, a new bill in Chicago proposes boosting pay and improving working conditions for Uber and Lyft drivers.
Bloomberg CityLab
August 3, 2022
One February morning this year, Uber driver Abiodun Odebunmi picked up three passengers in downtown Chicago. One of the young men pointed a gun at him and demanded his car. "Please, I have three kids," Odebunmi recalled begging the carjackers, who drove off in his Toyota minivan toward Lakeshore Drive.
For Odebunmi, who immigrated to Chicago from Lagos, Nigeria, in 2010, it was his second carjacking in less than a week.
"You might not be lucky the third time," a police officer told him after the incident, he said.
In 2021, there were more than 1,800 carjackings in Chicago — the most in 20 years — compared with 602 in 2019, according to the Chicago Police Department, which expanded its carjacking task force last year. There have been 844 carjackings through July 6 of this year.
Odebunmi's experience echoes that of other ride-hailing and delivery drivers who have faced carjackings, assaults and robberies. In February, three drivers, including one for Amazon, were attacked or carjacked in Chicago. Across the US, 124 such drivers were victims of carjackings or attempted carjackings in 2020 and the first half of 2021, estimated The Markup. More than 50 app-based drivers have been killed on the job since 2017, according to the advocacy group Gig Workers Rising. About two-thirds were people of color.
Among the more high-profile cases: Veterinary student Kristian Philpotts was carjacked and murdered in Urbana, a college town about two hours from Chicago, in January. In February, 71-year-old Abdul Rauf Khan, an Afghan refugee working as a Lyft driver, was shot to death in a carjacking in Prince George's County, Maryland. And in July 2021, 66-year-old Uber Eats driver Mohammad Anwar was killed in a daytime carjacking near Nationals Park in Washington, D.C.
In Chicago, a proposed city ordinance calls for improving protections for ride-hailing drivers by requiring riders to verify their identities, as well as providing funds that could be used for safety equipment such as dashcamsand protective barriers. The bill, introduced by Alderman Roderick Sawyer, would also boost driver wages and allow them to appeal deactivations, among other measures designed to improve working conditions. "They need a decent increase," Sawyer told the Chicago Sun-Times. "They feel like they're getting shafted."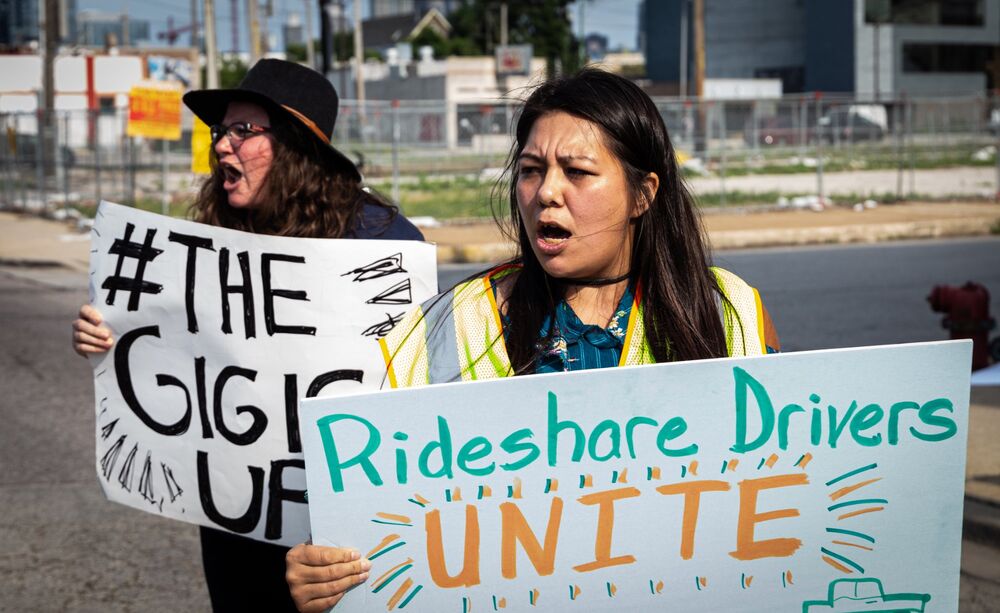 On July 26, a group of drivers and driver advocates blocked traffic outside an Uber facility in Chicago during a rally in support of the bill; six protesters were arrested.
If the bill passes, Chicago would follow Washington state, Seattle and New York City in creating regulations aimed at improving driver safety and working conditions.
Rising Costs
Along with the specter of crime, higher fuel expenses are compounding the challenges for Uber and Lyft drivers. According to a Mobile Workers Alliance survey from April, 90% of Southern California drivers said rising gas prices make it difficult to pay basic expenses like rent and utilities.
With gas topping $6 per gallon in Chicago in June and prices still high, driver Nolberto Casas needs to do the math for each ride. "Half the time, you're staring at the gas. You know a ride might not be worth it," he said.
Last year, Casas was willing to drive 10 to 15 minutes to pick up passengers. But driving an empty car means losing money, said Casas, who has been working for Uber and Lyft in Chicago since 2019. Now he stays closer to downtown, where there are more riders, and he avoids driving fromnoon to 4 p.m., when there are fewer customers. "You know it's going to be a net loss," he said.
The 55-cent fuel surcharge that Uber and Lyft added to passenger fares for most cities in March doesn't help much, he said: It's a flat rate no matter the mileage or trip duration.
Ricardo Marquez, 31, says he's driving less for Uber and Lyft in Chicago because of safety concerns and fuel costs. He has to drive more to earn what he did before this year's price surge. "It takes time from your family," said Marquez, who has a 7-year-old son. "I don't feel safe driving," he added.
Uber and Lyft have reported driver shortages this year. For riders, fewer drivers can mean longer wait times and higher fares. Average fares for standard Uber and Lyft rides reached a high of $20.68 in the second quarter of 2022, according to market research firm YipitData. It's the highest quarterly fare since the company began tracking them in 2017.
But drivers say they aren't seeing as much of that revenue: During a recent four-hour stint behind the wheel, for example, Casas only pocketed about half of the gross fare from six rides he gave, according to the trip earnings reported on his driver app. When he started driving for Uber and Lyft in 2019,he estimates he typically got 70% to 80% of the gross fare.
Fewer drivers also signals a blow to the local economy. The net economic value to Uber drivers was $5.7 billion annually, the company estimated in 2018. Almost 25% of Lyft workers drove more during the Covid-19 pandemic because they were laid off or furloughed, according to its 2022 report. Nearly 75% of Lyft drivers were racial or ethnic minorities.
The proposed Chicago ordinance calls for capping companies' share of gross fares to 20%, along with doubling drivers' pay per mile from 60 cents to $1.20 and establishing a $5 trip minimum.
In response, Uber and Lyft point out that their drivers earn $10 to $20 more per hour than minimum wage.
No Choice
While drivers are independent contractors, they have little control over where they drive, said Lori Simmons, gig economy organizer at advocacy group The People's Lobby in Chicago. Most drivers only learn their destination when they are close to the passenger.
In response to concerns drivers have raised about safety and pay, ride-hailing companies have rolled out new features and pricing structures. Lyft is currently testing a new upfront pay model in select cities, including Detroit, Sacramento, Charleston and Columbus; the model allows drivers to see pick-up and drop-off locations and what they'll earn in advance. Last April, Uber released a rider verification feature across the US for people usinganonymous payment methods such as prepaid cards, gift cards and Venmo. It requires extra proof of identity, such as a driver's license or passport. Lyft also recently launched a similar feature.
However, verification applies to new accounts and doesn't tackle the problem of stolen credit cards used to request rides, said Simmons.
The companies also tout other safety improvements, such as ways for drivers to track rides real-time and to connect drivers with emergency services. "We've pioneered many features designed to help make the platform safer, and give drivers peace of mind, like our rider verification tool, which we developed after receiving feedback from drivers," said Rachel Perl, who oversees regulatory operations and strategy for Uber in New York and Chicago
In the meantime, some drivers are paying for their own security equipment, such as dashcams and plexiglass partitions. "The onus on drivers to protect their lives is beyond ridiculous," said Casas, who stressed his lack of control over his rides and passengers. "All I can do is pray."
Defending Against Deactivation
On-board cameras would help not only with deterring crime, but give drivers recourse against unfair and punitive customer complaints, they say.
Hours after he'd recovered his carjacked vehicle in February, Odebunmi says he picked up a man who wanted to smoke marijuana in his car. Odebunmi refused, and the passenger complained about him to Uber. The company then deactivated Odebunmi, who started driving for Uber in 2014 and had logged about 33,000 rides. Because Uber has a cross-deactivation agreement with Lyft in Chicago, within days he was barred from driving for both companies.
He says he later went to Uber's offices many times to dispute the complaint, but the company would not reactivate him. "Maybe God wants to save my life," said Odebunmi, who started working for a private taxi company in April. Now he knows his passengers' destinations beforehand, so can choose which rides he accepts. For safety reasons, he only drives during the day.
Uber and Lyft, who confirmed Odebunmi's deactivation, say they have rigorous review processes for deactivating drivers.
Another former Uber driver, Adlane Tair, was also deactivated following a dispute with a rider. Tair, who is from Algeria and has driven for Uber since 2018, said that last January he picked up an intoxicated passenger who assaulted and screamed at him while asking if he was Muslim. After the customer complained to Uber and claimed that Tair was drunk, the company deactivated him, though Tair filed a police report about the passenger and took a sobriety test to prove he was not intoxicated. A few days later, Lyft followed suit. Tair, 38, had logged some 7,000 rides and had a high customer rating, he said, but the company "didn't believe me."
Uber said drivers can request deactivation decisions be reviewed.
Now Tair delivers for GrubHub and Amazon, but his income is about half what it was when he drove for Uber.
"I'm trying to find a better job," he said. It's not easy to transition to other positions, especially ones that require degrees or occupational licenses. Tair wants to stop driving. "But I can't," he said. "I need money."
https://www.bloomberg.com/news/articles/2022-08-03/crime-fears-and-fuel-costs-take-toll-on-chicago-ride-hailing-drivers