The Guardian
September 1, 2015
As day labourers in India's Maharashtra state, Ayesha Begam and her husband couldn't afford healthcare, and did not have access to doctors and hospitals.
So Begam ignored pains in her stomach until she had a basketball-sized swelling and was no longer able to walk. In 2011, her husband enrolled her in India's national health insurance programme, RSBY, which had been launched three years earlier. Then, surgeons at a local hospital removed her 16kg tumour, for free.
Begam's story was highlighted as a case study by RSBY (Rashtriya Swasthya Bima Yojana, or national health insurance programme). It is one of the most successful micro-insurance enterprises in Asia, where there is a small but growing market for such coverage.
Across the world, low-income communities are often shut out of financial services like savings accounts, insurance or mortgages because they cannot afford premiums or fees, lack formal or regular jobs, collateral, identification or credit history – or because they struggle to read and write.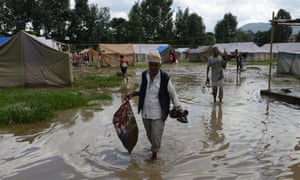 Nepalese earthquake victims at a temporary shelter after monsoon rains on the outskirts of Kathmandu. Micro-insurance schemes can offer a safety net for families after emergencies. Photograph: Prakash Mathema/Getty
In Asia, however, insurance has emerged as one of the fastest-growing financial services catering to the poor, due to the large population and thanks to relatively developed insurance markets and regulations in some countries. Micro-insurance is most prevalent in India and the Philippines, which have specific regulations in place.
Micro-insurance can include government schemes, private plans and public-private partnerships. Insurance cover for life, accidents, health and more give millions of poor people a safety net. After emergencies – such as earthquakes, floods, typhoons – it can help families avoid desperate measures such as abandoning children or taking them out of school, incurring debts or selling assets.
At a global summit of insurers in June, the UN secretary general, Ban Ki-moon, said the industry can and must play a strong role in shaping a more sustainable future. "This is a critical year for action," he said, referring to upcoming UN summits to ratify the sustainable development goals, and agree action on climate change.
"With these events, the world has a historic opportunity to adopt a new set of sustainable development goals and to put the world on track for long-term, low-carbon, climate-resilient growth," Ban said, noting that climate change impacts were accelerating and weather-related disasters becoming more frequent. "The insurance sector is well-placed to be a leader in risk-sensitive investments," he added.
At the World Economic Forum in Davos this year, nine global insurers, including AIG, Marsh & McLennan and Zurich Insurance Group, unveiled a consortium to incubate 10 micro-insurance ventures in Asia, Latin America and Africa over the next 10 years. The first venture will be launched this year.
"Micro-insurance is not only a viable business, but one that presents a unique opportunity to serve individuals and small businesses who do not typically have access to our world-class products and services," said Kevin Hogan, CEO of AIG Global Consumer Insurance.
Between 2010 and 2012, Asia's micro-insurance market grew by 30% annually in terms of people covered, and 47% in premiums generated, according to a 2014 report by Munich Re Foundation and Germany's GIZ aid agency.
More than 170 million people in Asia had some form of micro-insurance at the end of 2012. However, that is still only 4.3% of the population in a region where frequent natural disasters often propel already vulnerable people into destitution. Africa and Latin America each had about 44 million people covered by insurance.
India accounted for 65% of Asia's micro-insurance market, according to the Munich Re and GIZ report, with some 37 million poor families signed up to RSBY.
Enrolment in RSBY costs just 30 rupees (30p) per family and coverage includes an annual benefits cap of 30,000 rupees for a family of five. Members use a biometric smart card to minimise fraud. The government is working with private insurers to roll out health insurance plans across different states.
Other robust markets included Thailand and the Philippines, with micro-insurance penetration of 20% and 14% respectively.
The majority of micro-insurance programmes in Asia are life and accident insurance plans, which reached nearly 84 million and 78 million people respectively. Health, agriculture and property insurance followed, with coverage of 29 million, 24 million and 7.7 million, respectively.
While life and accident coverage have grown, health insurance is a more complicated product. Good doctors, clinics and hospitals may not exist in poor, rural areas. And while the case for health insurance may seem obvious in developed countries, poor people in Asia and elsewhere may need to be convinced of the benefits of paying premiums when they are healthy.
"The whole concept of insurance is an alien thing," said Kelvin Hui, a principal advisor at GIZ, based in Dhaka, Bangladesh. Prospective clients in Bangladesh say they are open to paying monthly premiums, but want a refund if they don't use their insurance that year, said Hui.
Low-income clients also often require more guidance and interaction from agents than conventional middle-income, educated customers. This makes programmes more expensive to operate.
While India and the Philippines are becoming established markets, micro-insurance operations in Bangladesh, Indonesia, Pakistan and Nepal have also shown impressive growth in recent years, Munich Re Foundation noted.
Pranvav Prashad, technical officer with the International Labour Organisation's Impact Insurance Facility in Washington, noted that an increasing number of countries in Asia are helping micro-insurance scale up. Bangladesh, China, Nepal and Indonesia recently issued their first specific guidelines for micro-insurance.
"Governments and regulators are drawing up micro-insurance-focused regulations and rules that allow more and more players to play an active role in the sector," said Prashad. "The outlook is cautiously optimistic."
http://www.theguardian.com/global-development/2015/sep/01/micro-insurance-families-poorer-countries-protection-destitution