Mom-and-pop shops face an uphill recovery
Bloomberg News
October 28, 2021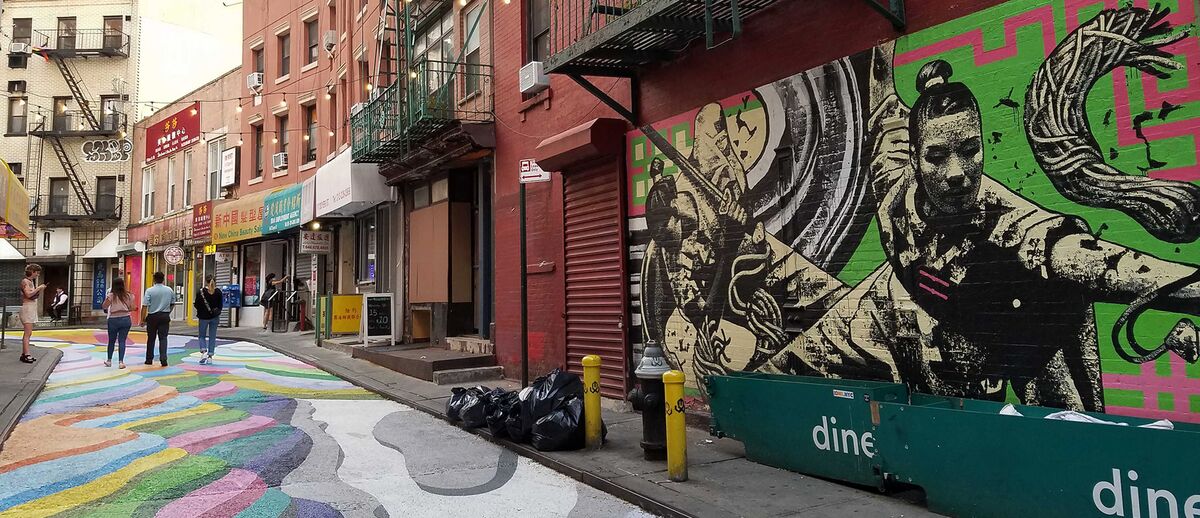 By Amy Yee, Andre Tartar and Christopher Cannon October 28, 2021
New York City's Asian-American small businesses, a key driver of growth pre-pandemic, are now facing one of the longest roads to recovery.
GO TO ARTICLE TO SEE DETAILED MAPS, CHARTS, GRAPHS
https://www.bloomberg.com/graphics/2021-nyc-asian-american-recovery/
A lack of access to financial relief—often inaccessible in Asian languages—technology barriers and a surge in anti-Asian hate crimes are hampering a return to normalcy for many restaurants, salons, groceries, laundries and other services that were among the first hit at the onset of the Covid-19 crisis.
Limited English proficiency rates among self-employed Asian New Yorkers
79% Laundry services
Nail salons 70%
Beauty salons 69%
Food services 68%
Taxi and ride share 66%
Their firms suffered early on, as customers shunned Asian stores when the new coronavirus first spread in China, and were helped the least by government aid, according to a report from the nonprofit Asian American Federation (AAF). In Manhattan's Chinatown, where many enterprises are Asian and immigrant-run, storefronts are shuttered. The neighborhood sits next to big offices and courts that normally provide a vital stream of customers.
While activity has come back as the city reopens, workers and tourists have still not completely returned. Local foot traffic remains below 2019 levels, according to SafeGraph data.
"Clearly if you're working from home, you're not coming to downtown business districts. Across the board, restaurants are not doing well," said Wellington Chen, executive director of Chinatown Business Improvement District.
More than 1.3 million New Yorkers are Asian, or about 16%. They are the largest group in 15 zip codes, including in majority-Asian Flushing, in eastern Queens.
Economically Vulnerable
The most heavily-Asian zip codes are relatively less well-off and home to many recent immigrants.
Few PPP Loans in 2020
While these areas were hit particularly hard by the pandemic, they received less aid last year from the small-business Paycheck Protection Program than other parts of the city.
Note: Acceptance rates are calculated as the number of borrowers in a zip code who received PPP loans relative to the estimated number of small businesses (those with fewer than 500 employees) and sole proprietorships in the area.
Not Much Aid in 2021 Either
A similar pattern was seen with the final PPP round in 2021, which was less widespread in heavily-Asian areas while successfully targeting lower-income Black and Hispanic neighborhoods in the Bronx, Brooklyn and Queens.
Small Dollar Amounts
Besides receiving fewer loans, businesses in heavily-Asian zip codes—such as taxi services, restaurants and beauty salons—tended to get less money.
Before the pandemic, Asian-American small businesses made up 20% of New York City's businesses and were the fastest-growing segment of the group.
Consumer spending in Manhattan's Chinatown and Flushing, a large Asian neighborhood in Queens, declined about six weeks before New York went into lockdown in March 2020, according to Mastercard Center for Inclusive Growth. By early March, spending in these neighborhoods had dropped more than the rest of the city. Over half of Asian-owned companies said their revenue dropped 75% or more last year, according to the AAF report.
Many also lack digital payment and online delivery capabilities that helped other businesses when in-person dining was restricted. In New York City, 24% of transactions in grocery stores and restaurants were digital in 2020, but only 3% were digital in Asian-American communities, according to Mastercard. https://7345f2a4c6cfbbd9b33488f220ef9ec2.safeframe.googlesyndication.com/safeframe/1-0-38/html/container.html
The hit to businesses meant many in the community lost their jobs. The number of Asian Americans claiming state unemployment benefits in New York rose by over 4,000% from May 2019 to May 2020—nearly three times the increase for the state overall.
Jobless Surge
The increase in Asian claimants has been higher than other groups
Across the U.S., Asian Americans with less education struggled during the pandemic. In California, 83% of Asian Americans with high school education or less filed unemployment claims by last July, compared to 37% for the general population with the same level of education, according to research from the University of California, Los Angeles.
Some owners say there hasn't been enough of an improvement since. At Sichuan Hot Pot in Chinatown, partner Yong Zhong Lim offers a glimpse at the hardships that many of those businesses face.
One weekday evening, he greeted the few passersby in front of his Manhattan restaurant—a far cry from the once-crowded Pell Street. Lunch hours are slow too. Before the pandemic, Sichuan Hot Pot had three delivery workers during lunchtime. In early autumn, it was sharing two delivery workers with five other restaurants.
"I don't mind hard work," said Lim. "But there isn't even a chance to do hard work."
Rising food costs, supply-chain bottlenecks, and lingering fears of the delta variant further strained the eatery in recent months. There are other pressures too. Sichuan Hot Pot closed its outpost in Flushing, due to rising rent. And as hate crimes against the Asian community have spiked during the pandemic, restaurant staff commute home together for safety. Worries about anti-Asian bias were widespread among the 800 Asian-American business owners surveyed by AAF.
The local recovery remains relatively weak compared to pre-pandemic levels, with foot traffic still down as much as 30% in Chinatown and 50% along Main Street in Flushing, Queens, the area's main drag and transportation hub, according to a Bloomberg analysis of SafeGraph mobile phone location data.
Slow Recovery
Activity is still down in two of New York City's biggest Asian neighborhoods
Change in foot traffic since 2019
It's a similar situation in other parts of the country. Asian-American businesses surveyed in Southern California this spring reported greater losses during the pandemic than companies in the region overall. And 60% of Asian-owned businesses nationwide missed out on financial aid because owners did not believe they were eligible, according to a survey this year from the National Asian/Pacific Islander American Chamber of Commerce and Entrepreneurship.
In south Flushing, around 1,000 borrowers received federal Paycheck Protection Program loans in 2020—an estimated rate of 10%. In a few wealthier parts of the city, the acceptance rate was closer to 50%. While the latest round in 2021 was explicitly geared at lower-income neighborhoods and communities of color, heavily-Asian zip codes saw at most a modest increase in loan acceptance rates. (An analysis last July by RentHop found a similar 2020 trend.)
"Even though Flushing is one of the most concentrated small business centers, it isn't acknowledged as such and doesn't receive the support that our community deserves," said John Choe, executive director of the Greater Flushing Chamber of Commerce.
Local Differences
Zip codes with large Asian populations received smaller loans than the city overall, except for Manhattan's 10013, which includes wealthier neighborhoods like Tribeca and parts of SoHo
$20,100
New York City median
◀
PPP total median loan amount
10013 Chinatown (and Tribeca)
$37,957
10002 Chinatown (and Lower East Side)
$20,800
11354 Flushing
$16,827
11220 Sunset Park
$16,805
11355 Flushing
$13,750
Many Asian-American businesses lacked relationships with mainstream banks or were not eligible for PPP loans in the first place. Some don't have formal payrolls because they are staffed by owners and family members. And others, especially immigrant-owned small businesses, often rely on cash and paper-based bookkeeping, making it difficult to get extensive documentation required for government aid applications. Many hired costly accountants to help navigate the process. https://7345f2a4c6cfbbd9b33488f220ef9ec2.safeframe.googlesyndication.com/safeframe/1-0-38/html/container.html
"There are a lot of cases where owners have been burned," said Ahyoung Kim, AAF's associate director of small business programs.
For many, getting that cash infusion was the difference between staying open or shuttering entirely. Kent Zhang, owner of Bodhi Kosher Vegetarian in Chinatown, managed to line up a PPP loan. "Otherwise this restaurant would close," he said.
But the Vietnamese restaurant next to his wasn't able to do the same and shut down, he said. "So many restaurants are permanently closed."
For Asian-American businesses already hanging by a thread, it's a tough path forward.
"Quite a number of restaurant owners did not survive this pandemic," said James Chen, owner of Blink Marketing, a shop in Flushing that prints menus for many local eateries.
The ones that remain are still struggling, he said. "They don't know where is the end of the tunnel."
Editors: Cécile Daurat, Margaret Collins and Alex Tribou
Photo editors: Farah Shulman, Marie Monteleone and Maria Wood
Lede photograph: Amy Yee
Sources:
Asian share of population by zip code: 2015-2019 5-year American Community Survey (U.S. Census Bureau); zip code 11249 on the Williamsburg waterfront in Brooklyn, created in 2011, is not broken out in the data so values for next-door 11211 are used instead.
Median household income by zip code: 2015–2019 5-year American Community Survey (U.S. Census Bureau); zip code 11249 on the Williamsburg waterfront in Brooklyn, created in 2011, is not broken out in the data so values for next-door 11211 are used instead.
Paycheck Protection Program data by zip code: U.S. Small Business Administration, number of businesses with fewer than 500 employees from the 2019 Census County Business Patterns, unincorporated sole proprietorships and partnerships by county in 2018 from the Internal Revenue Service; an estimate of sole proprietorships is not possible for zip code 11249 on the Williamsburg waterfront in Brooklyn, which was created in 2011, so data is combined with that of next-door 11211.
Drop in consumer spending: Mastercard Center for Inclusive Growth
Covid's impact on New York's Asian small businesses: Small Business, Big Losses: The Impact of the Covid Crisis on Asian Small Business in New York City, Asian American Federation
Monthly New York state unemployment insurance claims by race and ethnicity: U.S. Department of Labor
Foot traffic change by city block: SafeGraph
Limited English proficiency rates among self-employed Asian New Yorkers: Small Business, Big Losses: The Impact of the Covid Crisis on Asian Small Business in New York City, Asian American Federation
Methodology: The Paycheck Protection Program loan acceptance rate was calculated by first estimating the number of unique borrowers in each New York City zip code with matching names and addresses—slight spelling differences were taken into account—and then dividing by an estimate of the number of eligible borrowers in each zip code. Since nearly half of all loans went to sole proprietorships and self-employed people, according to a Small Business Administration spokesperson, Bloomberg is including not only small businesses with fewer than 500 employees in a given zip code (according to the 2019 Census County Business Patterns) but also that zip code's population-weighted share of countywide unincorporated sole proprietorships and partnerships (according to 2018 IRS data).
The block-level foot traffic data from SafeGraph is based on a national sample that includes approximately 10% of devices in the U.S. Since not everyone has a smartphone, the data is not a perfect representative subset of the population, but provides useful insights about levels of local activity. The data has been adjusted for daily fluctuations in the number of devices detected. Additional factors impacting the data's accuracy include changes in the panel makeup linked to the underlying apps, signal drift and, especially in urban environments, complicated or dense structures that limit the ability to track foot traffic. The analysis looked at four weeks of activity from mid-September to mid-October compared to the similar time period in 2019.
GO TO ARTICLE FOR DETAILED MAPS, CHARTS, GRAPHS
https://www.bloomberg.com/graphics/2021-nyc-asian-american-recovery/